A Bristol-based artist collective active in the 1980's and early 1990's. Focusing on site specific Sculpture, Installation and Live Art created and placed in public space.
Active in Bristol:
The Basement Gallery, St. Pauls, Bristol
The Garage Site, St Nicholas Rd. Bristol
Absolute Rubbish, St. John's St. Bedminster
The Arnolfini
and
The Performance Art Festival, V-Shed, Bristol City Docks
Semi Ambulant also took these concepts to:
Amsterdam, Staats Leiden Greep Festival,
Glastonbury Festival,
The National Review of Live Art, Third Eye Center, Glasgow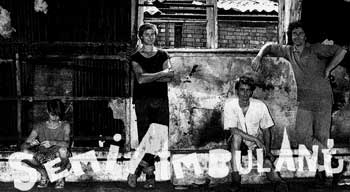 Recently, the Semi-Ambulant Super 8 Archive was presented at:

super8station
Station, Phoenix Wharf, Bristol July 20- 21st, 2003
Details:
A day in the life of an 80's Art Group.
A "Camera on the wall" style documentaries shot in Super 8 which describe the day to day development of public events coordinated by the collaborative visual art organisation "Semi Ambulant"* (a title inspired by facilities at a motorway services on the edge of Birmingham during a rest stop on Semi Ambulant's inaugural nationwide tour in 1985).
The films on loan to the super8station film festival, were shot during two key Semi Ambulant events:
Zaal 100: an international festival of the arts in Amsterdam
and
Absolute Rubbish: a three month residency on the site of the old tram depot in Bedminster (which now hosts a McDonalds, and a car valeting service).
These films were available for viewing during the Film Festival, Mac Dunlop hosted a home movie screening on Sunday, July 21st, at 4pm.
*Core members of Semi Ambulant were: Simon Lee, Trevor Roberts, Annie Lovejoy and Mac Dunlop. Associate members included: Alastair Hall and Keith Hannan, Jazz, Jurgen, Sarah, and David Roden)