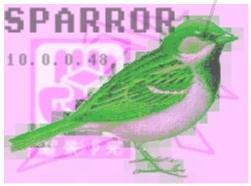 SPARROR Server Review Gala - minutes.


	agenda
		declaration of interest
		user concerns - 
		sysop concerns 
		CONTENT AND TECHNICAL ISSUES
		community development - HOW TO BECOME A SPARROR USER
		aos - any other servers
	agenda
		general discussion
			people kate has invited 
				openmute - simon worthington
				pva - 
				a2rt - brum
				limehouse town hall - represented
				redundant tech initiative
		apologies
			simon worthington / mute magazine
			Lady Lucy
		declaration of interest
			rachel:
				: Rachel:
				:
				: Rachel is a user of irational.org rather than sparror
				: she's here because of problems with irational server
				: about a year ago Helen Cadwallader was aware of this and because
				: her thinking at that point was around how the ACE could support
				: art servers, she thought it would be a good idea for irational
				: to do a survey of art servers - how could they be supported, are
				: they substantial part of new media arts production? So this
				: survey is a continuation of Art Servers Unlimited discussions.
				: So, we have an opportunity to highlight art servers as a
				: category of thing that might be supported by the Arts Council
				: (which I work for). So the idea is not just to plough in money,
				: but to see how the operate in communities. Sparror is a useful
				: case study for this reason. 
				:
				: Heath: 
				: Irational is also a case study, but
				: a very different context (PROBABLY MORE LIKE AN ART CONTEXT FOR AN ART ECONOMY RATHER THAN A
					THE COMMUNITY CONTEXT OF SPARROR. IRATIONAL COSTS £150.00 PER MONTH)
				:
				: Rachel: so the idea was to support irational as an arts server, 
					WHILST EMPLOYING IRATIONAL TO REPORT ON THE CURRENT STATE OF OTHER ARTSERVERS
				: so we are looking for ideas and EXPERIENCES from people who have set
				: up art servers - are they migrating to commercial services? or
				: are they continuing to set up their own servers?
				:
				: we also wanted to provide a manual - a technical how to about how
				: to set up an art server TAKING INTO ACCOUNT SOCIAL CONTEXT, WHICH WE ARGUE
					IS THE KEY INGREDIENT FOR A SUCCESSFUL LONG-RUNNING SERVER. 
				:
				: There was also an imperative to make things more inclusive,
				: boraden usage of art servers. AN ACE IMPERATIVE ASWELL AS AN IRATIONAL ONE.
					I.E SIMPLIFY THE PROCESS AND EXPOSE THE SIMPLICITY
			kate:
				: is doing routine administration on sparror, she looks after
				: new users on sparror.
				: I want to think about policies of access - add to the
				: retrospective politice (POLICIES?) that have already been implemented
			rasha:
				: I'm a new user, interested in finding out more about
				: sparror, how to use it. It's great to be part of the cube
				: community and to use a bit of web space there - I've built a
				: website for my band there. It's a great exchange for the
				: volunteer work I do here
			hogge:
				: I didn't know about the context of art servers when we
				: started sparror - it might be interesting to look at a
				: review of it as a historical document - how it's changed.
				: When it was first set up it was needed for something like
				: independent heroine. The cube needed it for a couple of
				: projects, there's been no stages in development when it's
				: got reviewed. Only a few people do stuff with their
				: accounts, but it's interesting how it's happened in
				: parrallel to everything else that goes on at the cube. I'd
				: like to do more with sparror - but it's a time thing really.
				:
				: heath: hogge, you really started the whole linux programme
				: here at the cube, on sparror. 
				:
				: hogge: thinking back, it was so exciting, understanding how
				: to get *on* the net - not just being a consumer, but really
				: using it, LEARNING LINUX, IP STRUCTURES. In some ways, it does reflect what goes on at the
				: cube. There's never been any deliberate effort to do that,
				: but it's internal and external usage has reflected the
				: operations of the cube.
				HEATH CONVERSATION ABOUT EARLY DISCOVERY OF DEMON INTERNET
				AND POSSIBILITIES OF RUNNING A SERVER AND A ROUTER. DEMON 
				WAS STARTED BY A BUNCH OF HACKERS
				:
				: heath: it should be a separate thing - sparror should
				: persist, even if the cube disappears at some point. It's a
				: separate community.SEPERATE CUBE USERS FROM SPARROR TOOLKIT
				:
				: hogge: a lot of people who don't have ongoing physical
				: relationships with the cube are still involved in sparror,
				: and use it.
				: In terms of policy, there's some kind of collaboration with
				: each of these people - we don't have a fixed policy, but
				: there's usually some kind of exchange.
				:
				: kate: this one interesting case was with michael, who runs
				: Spazoom - which is kind of related to the cube. Lady
				: recommended him but after he hassled me to set up the
				: account he then failed to respond to any of my sysadmin
				: emails
				:
				: kayle: he felt personally rejected by the cube - we have to
				: have a policy so that we can make these relationships clear.
				:
				: kate: he hadn't put anything on the website either, so it
				: wasn't like he lost files or anything.
					CONVERSATION ON WHO ARE THE SPARROR USERS - WHATS THE CRITERIA 
					FOR OPENING AN ACCOUNT, HOW TRANSPARENT IS THE PROCESS.
					DEPENDENT ON TRUST NETWORK, FRIEND OF A FRIEND.
					CONTENT NEEDS TO BE SYMPATHETIC, USER NEEDS TO DEMONSTRATE
					COMMITMENT, ACTIVE PARTICIPATION. NEED A SYSTEM IN PLACE,
					KAYLE RAISES THE NOTION OF A 'CONTRACT'.
					
					ISSUE OF DOMAIN HOSTING - SIGNIFICANCE 
				:
				: heath: can we get back to the introductions?
			adam:
				: I'm adam and I'm a user. I use sparror for uploading photos
				: and attempting to archive cube activities and random
				: activities. I also store bits and pieces on there to get to
				: people when I'm away. *It's also a suitcase*. I also have
				: other web space for other people. People don't seem to think
				: that you can get space on sparror - why could you get it for
				: free? There is a notion of it being a give and take with the
				: cube, but a lot of people don't believe it. I do think it's
				: a really good thing, the stuff that people come up with when
				: they have space like that. People can do really amazing
				: things when money doesn't restrict them like that. I see
				: sparror as a server I might use more as an everyday thing.
					KNEW ABOUT IT THROUGH LADY LUCY.
					HAS A FREESERVE ACCOUNT TOO - INTERESTING TO NOTE THE
					DIFFERENCES OF USE AND RELATIONSHIP.

			mac dunlop:
				: I've been on sparror since you set up sparror, '98, '99. 
				: hadn't done any webstuff before, although I was already
				: online. It's only because you asked me (HEATH) if I wanted space
				: that I began considering and learning about putting stuff on
				: the web. I've always been very grateful for that. It has
				: been a long term relationship.
				:
				: heath: It's been a long term relationship anyway - you were
				: invovled with the CYBERCAFE BBS etc.
				:
				: mac: well, it's because it's been long-term - because the
				: free space has been there, and continues to be free it's
				: encouraged me to maintain an interest in it, and invest it
				: with contemporary work and concerns. It's interesting that
				: you were talking about domains - I've had a sparror domain
				: for a long time. It's become the arena in which I've done my
				: own work - suitcase was a good term for me. In terms of
				: making my work easily accessible, it's been very useful for
				: me. For years before then I was doing email publishing, then
				: heath, hogge and kate told me about sparror, and it became a
				: natural transition to move into that. My involvement with
				: other projects - the cybecafe bbs have also been connected.
				: Other community-based projects I've been involved with E.G THE
					DOVE STREET COMMUNITY PROJECT, have
				: also been documented on sparror - and they've been connected
				: in many ways. A lot of the experimental developments of my
				: animations, for example, were always developed on sparror -
				: it's been an important public interface for many of my
				: projects. I'm also hoping that my use of it to promote my
				: work has also promoted sparror. 
				:	MACS DOMAIN =HTTP://SPARROR.CUBECINEMA.COM/MACDUNLOP
					CONTAINS WEB ARCHIVE OF WRITING AND EMAIL POETRY PUBLISHING

					
				: heath: so would you say your use of sparror has developed
				: your relationship with the cube? do you do things here to
				: pay the cube back for usign sparror for example?
				:
				: mac: the deaf film festival for example - I thoguht the cube
				: would give it a sympathetic hearing; not just because of
				: sparror, but because it's helped us to maintain contact : me
				: recieving administrative emails about sparror etc. The
				: sparror service is just part of the wealth of experience
				: I've had of the cube as more than a venue - as a
				: relationship with people, and a whole set of exchanges.
				CUBE HAS BEEN SUPPORTIVE AS PEOPLE.UNCOMPLICATED EXCHANGE,
				NOT NECESSARILY 'ARTWORK'ORIENTATED. RELATIONSHIP TIED TO USE OF BUILDING,
				REFLECTS COLLABORATIVE NATURE OF SPARROR. IMPORANCE OS SPARROR
				USERS MEETING FACE TO FACE.
				: think the whole nature of being an artist - not having
				: regular income, being project based. SPARROR IS IMPORTANT
					STABLE FACTOR, 
				For me, trying to give
				: something back for use of sparror has been very important
				: for me - so I have contributed when I've just got money from
				: a project or something. The fact that you haven't come to me
				: and asked for money has always really inspired me to be
				: involved. For me the internet is such a commercial space
				: now, and free use of it is usually so tied in to abusive
				: software, banners, and pollution of information with extraneous
				: and unnecessary capitalist ventures that are inappropriate
				: to any decent communication system.
				: 
				: heath: there's two main ways that sparror users have been
				: inducted. One way is through volunteering - people are
				: working here so it makes sense. Another way is to say - we
				: have a relationship with mac dunlop, whatever kind of
				: relationship - historical, professional etc.. By giving you
				: an account, I get the impression that you've become more
				: related to the cube through the sparror relationship. 
				:
				: mac: it's been about having a profile on the internet too -
				: people visiting my website because I have an account on
				: sparror, has maintained that relationship.
					INVOLVES MAC IN A SOCIAL ECONOMY VIA SPARROR.
				:
				: heath: how can we target people that we want relationships
				: with then, who we can give accounts to on sparror as a way
				: of getting them involved on the longer term.
				:
				: mac: well, there's also a relationship of dependency, people
				: don't realise how difficult it is to put effort into
				: building a web space.
				:
				: heath: in that sense it's also a bind. we give people web
				: space, WORK INVOLVED, then they feel responsible for it, THEN CREATE DEPENDENCY,
				  and we can exploit that relationship.(HEATH USES WHITE ELEPHANT ANALOGY
					BUT MAYBE TALKING ABOUT 'WHITE MANS BURDEN'- REFERENCE
					TO COLONIALS GIVING CIVILISATION TO INDIA !!)
				:
				DISCUSSION ABOUT RHIZOME MODEL. CONCEPT OF PAYING TO VIEW, FREE
				ON FRIDAY'S.

				: hogge: cheap things are usuall crap - so something so free
				: or cheap, like sparror, it has that association. So if it
				: was really difficult to get webspace at sparror, would that
				: have a different effect?
				:
				: kate: well there's a lot of assumptions there. It's not free
				: and easy necessarily.
				:
				: mac: I'm very lowtech with stuff i do on sparror - nifty
				: telnet and simpletext only. No director, flash ,etc etc.
				RACHEL: WIKI'S EXIST TO CREATE EASE, NO NEED TO WRITE HTML ETC.
				LOTS OF CONTENT MANAGEMENT TOOLS EXIST FOR SIMPLE WEB PUBLISHING
				(I.E NO NEED TO CREATE SO MUCH DEPENDENCY)
				
				KATE: BUT SPARROR DOESN'T HAVE A WIKI. WE ARE JUST FOCUSSING ON SPARROR.
				RACHEL: SURE, BUT SPARROR COULD POTENTIALLY USE WIKI.

				: heath: mac, we didn't give you any instructions did we?
				:
				: mac: no, I worked it out myself. I've also managed to feed
				: back into this by helping other users with macs connect to
				: sparror.
				:
				: heath: well what you've described is quite an advanced
				: mentality of a unix user, YOU USE SSH - you're talking about simplicity,
				: utility, responsible design - which is interesting, as we
				: just gave you an account and that somehow engendered this
				: kind of use. The way you're working is the way we work - as
				: computer professionals. WE TEACH BY STEALTH.
				:
			saul:
				: I'm from limehouse, I'm here ON A 3 MONTH RESIDENCY to learn about how the cue
				: work. IN OBSERVER MODE. LOOKING AT THE WAY PEOPLE WORK HERE.
					NOTICING A DEVELPOED INTRICATE SOCIAL PROCESS, WHICH INFORMS
					THE SYSTEMS OF ADMIN.
			RACHEL: THERE IS A SOCIAL PROTOCOL TO LEARN?
			SAUL  : YES.
					s CURRENTLY SYSADMINS LIMEHOUSE TOWN HALL SERVER AND ASSOCIATED SERVERS.
			mike
				: I'm mike, I have an account at sparror, I use it occasionally for
				: little hacks. I run an indymedia server which is a neighbour of
				: sparror, so we're looking at expanding the co-location of an
				: indymedia server here - which seems like a beneficial project, both
				: for the cube and indymedia. I'm also running a project - dialect
				: radio, which is an indymedia related project - a local net radio
				: station
				:	INDYMEDIA OFFERS A STREAMING SERVICE. ITS ALSO A HOMEMADE MACHINE
					LIKE SPARROR THAT RUNS FOR FREE.
				: heath: we're thinking about co-location facilities here, a more
				: secure space in the cube for co-location. This is a way of extending
				: the invitation to use sparror into the next three decades
				: potentially.
				:
				: mac: well, having the same url for the last 5 years has been really
				: important to me, the consistency has been a great help to me.
				:
				: heath: I think credebility is a word to use. If you change your
				: email address, or your server's off line, you loose your
				: credebility. It's really important.
				:
				: mac: when I was in Georgia, for example, it was really important to
				: have simple, reliable access to a server like sparror.
					IMPORTANCE OF SECURITY AND RELIABLILITY	- TO BE ALWAYS THERE
					AND ALWAYS ACCESSIBLE.

			kayle:
				: I'm a volunteer at the cube, I love sparror because of waht
				: it is,BECAUSE IT GENERATES IDES FOR ME but also because I see myself as a server at the cube
				: - I run services, I contain information. I'd like to do more
				: for sparror - and I'm surprised there aren't more people
				: here. The toolkit is also an essential service I'd like to
				: do more work with.
				:
				: heath: do you use your account on sparror?
				:
				: kayle: I don't know. I don't really use it. I use other
				: accounts on sparror: acola, nanoplex etc. I don't use my
				: individual account on sparror. I don't have my own domain 
				: name. I also use sparror as a communicatios tool 
				: - the mailing lists etc..
				:
				: rachel: is that very different to how you relate to
				: irational?
				:
				: kayle: not really, I use irational all the time, they're
				: very different.
					ACTUALLY, AFTER SOME MORE UNPICKING KAYLE REVEALED THAT 
					THERE WAS A DIFFERENCE.
				:
				: heath: you can be a user of sparror, without having an
				: account. kayle donsn't have a login, but she's a user.
				:
				: kayle: working here obviously generates lots of ideas for my
				: own work, at some point im interested in analysing how
				: somehting like this might end - every large organisation has
				: an apocalypse scenario - electricity, gas supply, nuclear
				: supply - all of these have apocalypse scenarios. I'm
				: interested in the cube's. Writing a cube disaster recovery
				: manual.
				 DISCUSSION ON SERVER AS A MEANS FOR ESCAPING DEATH
				: hogge: well there's been all kinds of disaster scenarios
				: here - people, and with the fire, financial.
				:
				: heath: I have a feeling this is a long tradition of this
				: space - disaster recovery. 
				:
				: kayle: I'd like to say something else about the toolkit -
				: what about a CV engine for cube volunteers. I'd also like to
				: make the utility of these systems more available .
				:
			danny
				: I have a 'pandora' project on sparror - it's about depleted
				: uranium. There's a lot of information on there, medical
				: research about DU etc.. written by scientists there. I had
				: it on two or three other servers before - getting randomly
				: shoved off servers etc. I've uploaded it to sparror and I
				: have had lots of support and haven't had any trouble with
				: it.
				:
				: I also use the space for other things. I've recently done a
				: video project in North London - working with some refugee
				: kids, I maaged to upload versions of the video to sparror so
				: they could see the edits I was making. I work at the
				: watershed but I'm not allowed space on the servers there
				: because it might be a security risk, so I often use sparror
				: to do things that are later uploaded to the watershed
				: server. I now help to run a server at the watershed - called
				: lovelace that is a bit of a sparror copycat project. It's
				: access systems are interesting - the decision making
				: processes about what goes on it. It hasn't been as
				: successful as I hoped, it doesn't work in the same way as
				: sparror does. I've also got a new project starting this week
				: - with some teenage mums in swindon. They need some webspace
				: and I was thinking of putting it on sparror. not on the
				: pandora project..
				SIGNIFICANCE OF NAME ASSOCIATIONS AND NAMESPACES - CREATES CONTEXTS, IDENTIFIERS, OWNERSIHPS
			
				heath
				: the longer I worked here I feel like i know less and less
				: about it. I've been at the cube three to four years and have
				: been involved with the development of the computer and
				: information systems here. I'm a core member of irational - a
				: collective that came out of a server. As things change and
				: accessibility to services on the net changed the need to
				: provide server space diminished, and irational decided to
				: put the focus on the people and their work and activities.
				: Before that I was part of a collective called cybercafe - a
				: bbs, then a webspace. I'm the main authoer of the toolkit
				: that have been used at the cube. I try to watch how things
				: work and remove duplication of effort. I try to make things
				: more efficient by th
				: at work. 
				: over the last few months I've been working on the events
				: manager - to formalise the systems by which events are
				: managed at the cube. this was in the response to solve the
				: disaster of the main programmer leaving due to the fact that
				: he felt he had too much work, and that people felt they
				: couldn't get events programmed at the cube. The events
				: manager is also an attempt to democratize the system of
				: management at the cube.
				
USER CONCERNS :AGENDA ITEM
			TERMINOLOGY - DEFINE 'USER'/'SYSADMIN'
			IS THE SPARROR MAILING LIST SUBSCRIBER A 'USER'?
			HOGGE: I PREFER 'PARTNER' TO 'USER'.
			3 MAILING LISTS - SKATETEAM, CUBE VOLUNTEER, ?

			IS SPARROR FOR CUBE VOLUNTEERS? FOR CUBE ASSOCIATES?

			PROPOSE A SIAMESE MODEL WHERE MICROPLEX AND SPARROR TO INHABIT THE SAME BOX
			BUT OFFER DIFFERENT CONTEXTS
			HEATH WOULD LIKE MICROPLEX (WWW.CUBECINEMA.COM) TO MOVE OFF IRATIONAL
			AND ON TO SAME BOX AS SPARROR
		
		general discussions
			KATE: WOULD LIKE TO CONVEY TO USERS THAT COMMERCIAL USE IS ACCEPTABLE.
			
			HEATH: ENVOURAGE PEOPLE TOWARDS FEELING OF OWNERSHIP. TRANSFER OWNERSHIP 
			OF SPARROR TO THE USERS. CREATE AN INDEPENDENT GROUP THAT SETS ITS OWN
			POLICIES.

			
		
			
			KATE:UNDERLINES THAT SHE IS NOT INVESTED IN SYSADMIN 'STATUS'. JUST ANOTHER USER,
			LIKE CHERYL, WHO PLAYS VITAL ROLE OF 'CANARY', ALERTING WHEN SYSTEM IS DOWN.
			KATE DOES NOT REQUIRE PAYMENT, IN FACT GAINS ALREADY FROM OPPORTUNITY TO INCREASE TECHNICAL 
			KNOWLEDGE AND SKILLS.

			SYSADMIN ISSUE: ADMINISTRATION WORK IS ONLY VISIBLE TO USERS WHEN SYSTEM FAILS.
			
			HEATH: ADVANTAGES OF HAVING SERVER AT THE CUBE - SECURE, SOCIAL CONTEXT,
				MANY PEOPLE ABOUT.
			MAC: ON SPARROR OWNERSHIP. RELATES TO SPARROR THROUGH USE AND CONCERNS
				SUROUNDING 'HERENOTTHERE', OWNERSHIP OF THAT SPACE, NOT ENTIRETY
				OF SPARROR.
			
			KAYLE: WOULD LIKE AN 'INTRODUCTION' TO SPARROR TO BE MADE AVAILABLE.

			KATE: PAYMENTS MADE THORUGH BARTER EXCHANGE E.G YASHA LEARNS LINUX IN 
				EXCHANGE FOR TEACHING KATE ARABIC.
			HOGGE: BARTERING OCCURS NATURALLY.
			
			SAUL: TRAINING CAN INVOLVE AN ECONOM OF SCALE. IAN MORRISSON TEACHES UNIX
				IN A STRUCTURED WAY IN ORDER TO IMPART EMPLOYABLE SKILLS - SO
				HE CAN EMPLOY TRAINEES.
			KATE: FAILIURE OF KATE AND KAYLES ATTEMPTS TO OFFER TRAINING ON 
				UPLOADINIG IMAGES AND BASIC UNIX COMMANDS.
			KAYLE: EMPHASISES USE OF 'HOW TO' PAGES, DOCUMENTATION.

			MAC: EXPRESSES FRUSTRATION OF EVER-EXPANDING KNOWLEDGE, REQUIREMENT TO 
			DOWNLOAD SOFTWARE, REGISTRATION OF PERSONAL DETAILS ETC PEOPLE PASSIVELY INURED TO
			THESE DEMANDS.
				ALSO, THE HIERARCHY OF KNOWLEDGE, E.G GEEK, WHICH SOME PEOPLE EXPLOIT.
				THE VIRTUAL WORLD MAINLY REPLICATES THE BUSINESS MODELS, LANGUAGE AND PRACTICE.

			SAUL ON RHIZOME: NO CONNECTION BETWEEN RHIZOME'S CULTURAL SPACE
					 AND HOSTING SERVICE BUSINESS , ALTHOUGH SOLD AS SUCH...(?)
			TRADING ON CULTURAL CRED OF 'RHIZOME.ORG/YOURNAME, TRANSFORMS RHIZOME SUBSCRIBERS INTO CUSTOMERS.

			
			ADAM: WORD 'FREE' IS NOW DEGRADED. ASSOCIATED WITH CHEAP, UNRELIABLE, INSECURE.
				
				DIFFERNECE BETWEEN 'FREESERVE' AND 'FREENETWORKS'.	
				FREENETWORKS SIGNALS A CERTAIN SET OF VALUES - ITS NOT FREE
				ALL THE TIME.

			CUBE HEAVILY DEPENDENT ECONOMICALLY ON VOLUNTEERS.
			KAYLE: THE CUBE IS ALL ABOUT THE PEOPLE.
				IF CUBE WAS TO EVALUATE THE CONTIBUTION OF ITS 'IN-KIND' INCOME
				IT COULD RAISE THOUSANDS IN MATCH FUNDING POTENTIALLY.

			: hogge: kate: having a sparror account is aN OPENENDED CONTRACT, LIKE A NORMAL 
				social relationship - not TIMELIMITED OR mitigated by a certain amount of time spent here, 
				or a certain amount of work. NO 'CLOCK ON-CLOCK OFF' CONTRACT
				AS PER INSTITUTIONAL ACCOUNT (EG H.E. INSTITUTIONS, BBC, ACE ETC)
				 MAKE SYSTEMS CLEARER, YES, BUT RECOGNICE VALUE IN LOOSE ARRANGEMENTS,
				DO NOT BE BEHOLDEN TO FORMAL POLICY.
			   
			: kayle: that's problematic in some cases - not everyone agrees on
			: policies and which people should be invited.
			 
			RECOGNISE BARRIERS TO ENTRY


			: heath: 
			: we're on a high at the moment: during those times we need
			: formal systems. At the moment, we're going fast and we're
			: skilled at the moment. But we've come to this point through the
			: implementation of rigorous systems AND REFINING THEM. We should know we might come
			: into crisis again - we should have that awareness when thinking
			: about our own operations. We're not some kind of hippy commune
			: where anything goes. There are policies that can be transcended
			: when we're on a high like now, but that we may have to revert to
			: those policies when we're in trouble.

			SAUL: ADAM BURNS OF FREE2AIR HAS INTERESTING IDEAS ABOUT SECURITY POLICY-
				- ALWAYS REACTIVE, CAN'T PREDICT, DO NOT ATTEMPT TO PRE-EMPT PROBLEMS
				CAN'T JUST IMMEDIATELY IMPLEMENT STUFF, HAVE TO GO THROUGH SOCIAL PROCESS
				THAT DYNAMICALLY REFORMULATES ITSELF CONSTANTLY.
				RATHER THIS THAN A DRY f.a.q


			RACHEL:TALKING ABOUT TACIT OR 'EMBODIED' KNOWLEDGE

			: mac:
			: sparror is great, why don't more people, who suffer the woe of
			: commercial hosting, ask for space?

			RACHEL: SOME PEOPLE LIKE THE INDEPENDENCY. 
				MONETARY BARRIES SOMETIMES EASIER TO OVERCOME THAN SOCIAL.
			:
			: danny: 
			: some people think of the cube as a clique, what if you're
			: outside of that social network? Friends of mine have volunteered
			: and haven't felt part of the 'gang'
			:
			: mac:
			: people often feel alienated by collaborative practices. People
			: are intimidated by closeness. That hasn't changed. People find
			: them intimidating. BUT THERE IS A NEED TO MAINTAIN THE SOCIAL FABRIC,
				SO DON'T GET SIDETRACKED BY THE CLIQUE ISSUE.

		user concerns:AGENDA ITEM

			SOFTWARE TOOLS/SERVICE SYSTEMS
			SAUL: WANTS TO SET UP AUTOMATED GALELRY SOFTWARE - PHP GALLERY. FOR 
				EASY PHOTO ARCHIVING, TEXT ANNOTATION.
				DISCUSSION ON PROS AND CONS OF DOWNLAODING HOMOGENOUS SOFTWARE	
				OR CREATING BESPOKE SYSTEMS/SOFTWARE
			HEATH: READYMADE SOFTWARE IS USEFUL FOR PEOPLE WHO DON'T WANT TOCREATE
 				THEIR OWN STRUCTURE.
				GOOD TO HAVE AN INTERFACE, BUT NO NEED TO PROVIDE TOOLS THAT ARE
				NOT ASKED FOR.
				E.G ADAM PREFERS TO HANDCODE HIS PHOTO ARCHIVE.
			KAYLE: SOME PEOPLE DON'T LIKE CHANGE

			web space
				: should we have default webspace / cv for each person with a
				: sparror account? 
				:
				: kate: it's not that simple, you have to have web space set
				: up by an admin.




			security
			separation of microplex and sparror
				: these could be two things that have co-dependency. each
				: should have different policies - even though they may be on
				: the same machine.  Microplex is the server for the
				: microplex, sparror is the server for the sparror group. they
				: are very related but not the same thing. 
				:
				: mac: as a user, I'm very happy with the address being
				: sparror.cubecinema.com/macdunlop - parttly because I don't
				: have to think up something clever, and partly because it
				: represents my provennance with sparror. I like the way my
				: address explains how I got access to the internet - I also
				: like the relationship between the physicality of the cube
				: cinema and the virtual location.
				:
				: danny: why is it called a free art server?
				:
				: hogge: because that's how I wrote it. At the time that's
				: what I imagined what it was.
				:
				: danny: because when I first heard about it I wasn't sure - I
				: thought it was mainly about activist stuff. Because I do
				: stuff which is artwork too. I didn't know I could put my
				: artwork up there because I thought it was mainly activist
				: stuff. 
				:
				: kate: I think people self-censor commercial stuff on
				: sparror. It would be good to maybe change that.
				:
				: heath: I'd like users of sparrors to come together and own
				: it and administer it today. I think we should have this
				: model - two co-dependent servers: the microplex and the
				: sparror. Umbilically linked - sharing vital organs. I'd like
				: to see sparror with one policy - working with one group of
				: people, and microplex having a different policy, being more
				: cube related. for example, adam's documentation might be
				: better sited on microplex.cubecinema.com
			photo archive software
			ownership
				: danny: 
				: there is a difference between users and
				: administrators. kate could say she owns it - but we're kind
				: of dependent on kate as an administrator. 
				:
				: kate:
				: things work like that at the cube - the bar, other
				: processes, we don't own them, we look after them.
				:
				: heath:
				: you don't have to be root to be an administrator at the
				: cube. you can invite people to get accounts on saprror for
				: example - not a technical status.
				:
				: mac:
				: I'm not necessarily aware of what goes on technically. I
				: don't know what we're talking about in the distinctions
				: between ownership and administration. 
				:
				: kate: when things go wrong, sheryl is always the first to
				: let me know - it's interesting to see the reactions when
				: things to wrong.
				:
				: rachel: 
				: would you, mac, have an interest in havign a say on who has
				: an account on sparror?
				:
				: mac: 
				: I'm interested in trying to maintain it as a commercial free
				: environment - so it's not exploited by spammers etc. Have
				: you ever refused to let someone use sparror?
				:
				: kate:
				: no, but people are also over-cautious to ask. people have to
				: be so confidant to ask that there are few people who do ask.
				: I'm itnerested in what services we can cultivate amongst
				: ourselves really.
				:
				: kayle: in that case, I think there seems to be more of an
				: introduction to sparror - you have to really root around to
				: find out what's on it.
				:
				: adam: my introduction was looking at it to see what's on it.
				:
				: hogge: we could have a different front end if people thought
				: it was necessary
				:
				: mac: I think that kind of link off the front end is fine in
				: this context. I know you've tried to trade training for
				: volunteering. free accessible space is one thing, but my
				: experience is that building web pages is a really useful
				: service - and help and training is really useful. 
				:
				: kate::
				: I don't want to become a service provider - and don't think
				: it's a good strategy. Rasha teaches me arabic in exchange
				: for some unix training, I'm more interested in encouraging
				: this kind of barter economy between sparror users.
				:
				: adam:
				: that has been happening anyway - certainly my photography
				: has been shown on sparror and exchanged in some ways.
				:
				: saul: 
				: we have unix classes at limehouse taught by a unix security
				: expert who wants 
			virtual domains and domain hosting
		sysop concerns
		terms of contract & contract models?